NEUTRAL RUN
Regular price

$39.00 USD

Sale price

$39.00 USD

Unit price

per
Description
Achieving Comfort, Power, and Stability:
Experience peak stability with our NEUTRAL RUN insole, designed for remarkable comfort, pain relief, and enhanced power during your run. This insole optimizes foot support, reducing stress on joints and muscles for a smoother, more comfortable running experience.

How It's Achieved:
The NEUTRAL RUN insole guides your foot into the ideal neutral position, optimizing power transfer and efficiency. Its patented design evenly distributes pressure, enhancing running performance and extending shoe lifespan. Run your best with NEUTRAL RUN.

Read this article to find out more about running insoles.
Symptoms & Effects
★ Works with any foot type
e.g. flat, splay or hollow feet

★ Avoid injuries and increase athletic performance

★ Relieve and prevent pain
e.g. heel spur, hallux, but also knee and back pain

★ Compensate leg position
e.g. bow legs or knock-knees, and common leg length differences

★ Shoes last longer
Certified Testing Reports

Testimonials from professionals:

Anna Gehring, (German champion 10.000 m): "The SOLESTAR insole provides me with significantly improved statics and ensures that, as a competitive athlete, I can run injury-free and at the highest level."

Phil Billikopf, Ironman-Triathlet: "I always had knee pain when running the last few years. The SOLESTAR insole has achieved what was previously unthinkable: no more discomfort. Crazy."

Jonathan Dahlke: "I run an average of about 130km per week. The SOLESTAR insole keeps my feet stable and helps me to prevent overloading."

The test report from 'LAUFEN.de' contains the development history of Neutral RUN and the experience of a few professional runners with the product. Read more here.

The magazine 'Running and Fitness' has tested NEUTRAL RUN. Read more here.


Neutral Position Explained

For every foot, the neutral position is the ergonomically best and most efficient position, especially when the foot is subjected to the stresses of running. Regardless of individual foot type, the patented design of the SOLESTAR NEUTRAL RUN insole stabilizes the foot in the correct position.

The stabilizing core of the insole ensures that the foot remains in a neutral position, helping to protect muscles and joints from overuse. Whether on asphalt or on the trail, the running experience is made much more pleasant by the insole. At the same time, the increased stability relieves the muscles and noticeably improves the runner's performance.
Shipping
Ready for immediate shipping.
Express: 3-6 days
Standard: 10-14 days
Sizes
SOLESTAR NEUTRAL RUN length in cm:

XXS-35/36: 23.1cm
XS-37/38: 24.4cm
S-39/40: 25.8cm
M-41/42: 27.1cm
L-43/44: 28.5cm
XL-45/46: 30.1cm
XXL-47/48: 31.7cm
M Kids-31/32: 20.6cm
L Kids-33/34: 21.9cm
Money Back Guarantee
We are confident that our insoles will revolutionize your comfort and performance. We encourage you to test the claim for yourself, and if after six weeks you are not 100% satisfied with results, you can return them to SOLESTAR for a full purchase price refund.
The SOLESTAR Concept & Production
Developed and designed in Germany, featuring a unique stabilization shell.
SOLESTAR insoles are special both in their design and manufacture. They work better and last longer than many other insoles on the market.
The unique advantage of SOLESTAR insoles is that they hold the foot in the optimal Neutral Position. This brings more comfort , control and allows to transmit power in the most effective way.
Share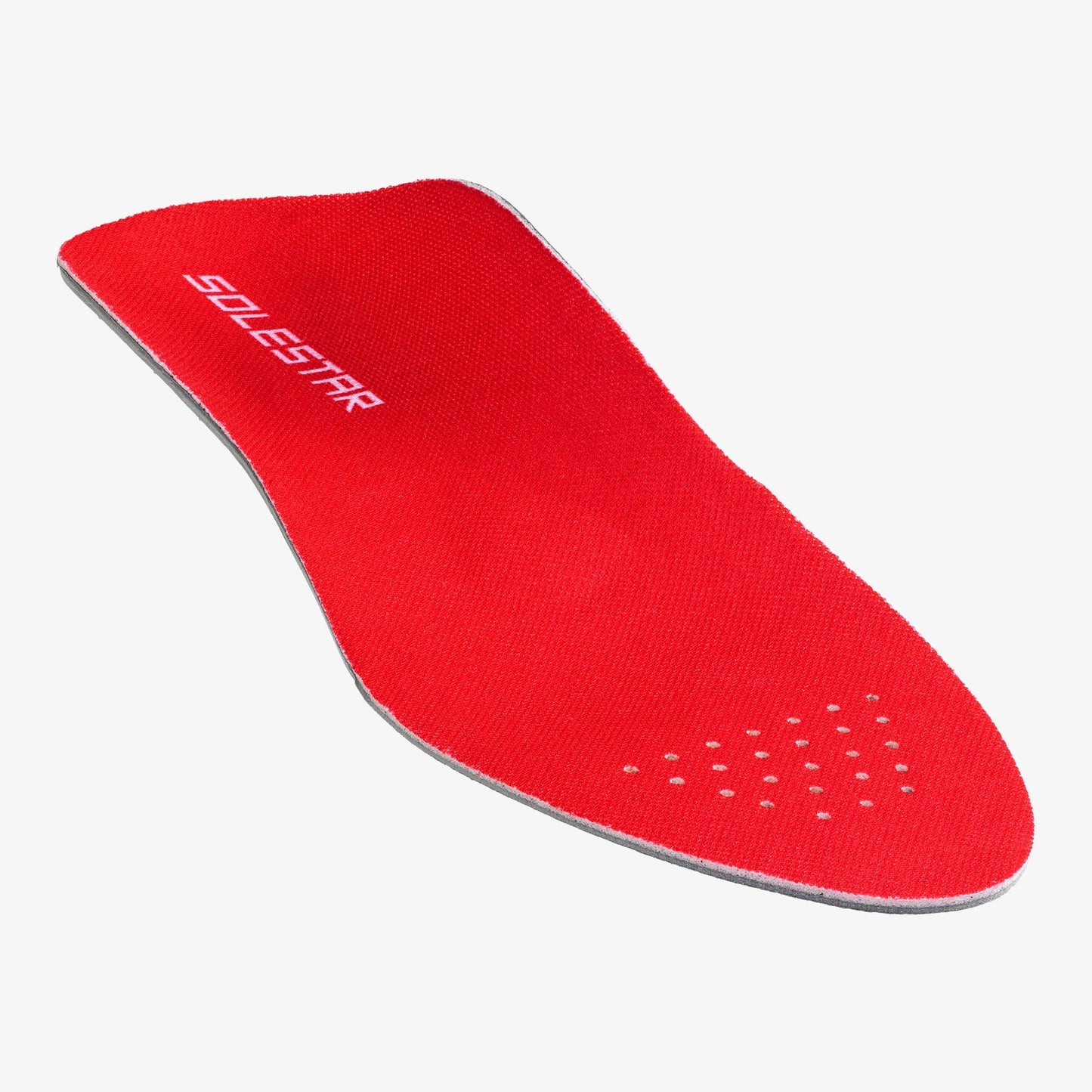 It's Great!
Since using the Solestar nature run insole, please feel really comfortable. Since arch protection is no longer a problem with arch, We're introducing this product to many people.